OUTLAW 1/2 HOLKHAM - RACE REPORT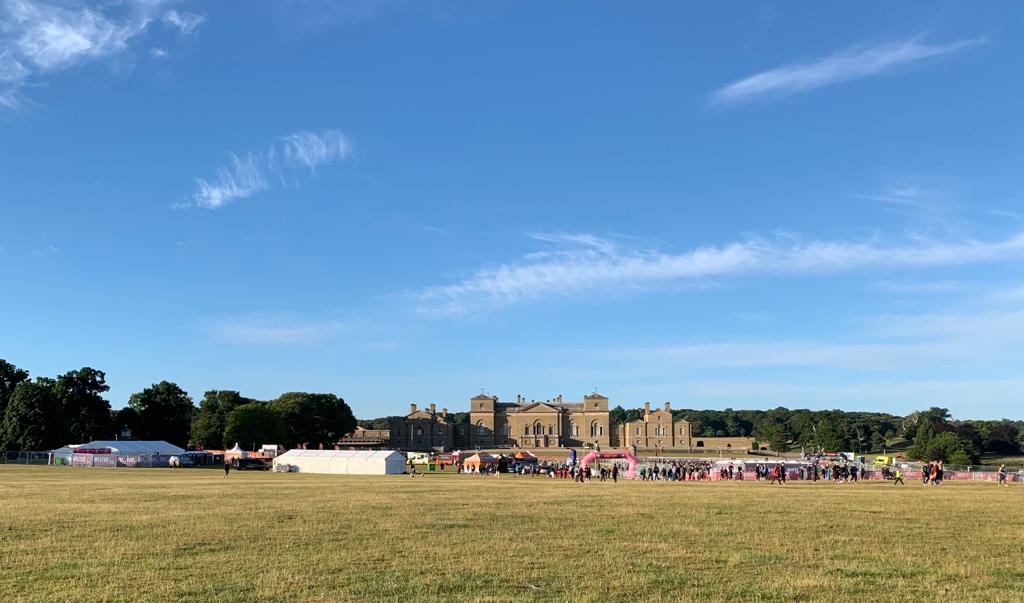 This is Outlaw Half Holkham. This was my 15th triathlon event and I have done a mixture of middle and full distance events.
The image above shows Holkham Hall and it is set in 25,000 acres of beautiful north Norfolk countryside. I stayed in Wells Next the Sea which is the nearest small town (1 mile away from the hall) in a comfortable Air B&B.
One of the best things about this event is how close everything is. This was taken from the car park which was no more than a couple of hundred metres from the car park. The transition area can just be seen on the right and the lake was just a bit further to the right, not quite in shot. Getting all your kit into transition at the beginning and end was simple and by far the easiest logistics of any event I have done.
The weather was really kind to us and the sun was soon up as the wetsuits went on. As with other Outlaw events we were grouped by estimated swim time and into waves with coloured caps. Once your wave was called you went into a holding area and walked forward and down a ramp into the water, we went off one at a time and it was easy to find clear water. The temperature was 21 degrees. We went out round an island and back. At some stages there was some weed, but I think you should expect this in such a lovely natural stretch of water in July and it is not something I would moan about. It was tougher on the way back as we were into a slight breeze. All in all I enjoyed the swim very much, had plenty of space and very little jostling from other swimmers. I was a bit concerned about all the little duckings which I witnessed the day before and imagined that an onslaught of triathletes would have been a bit scary. However we didn't invade their privacy for too long and left them in peace to head to transition.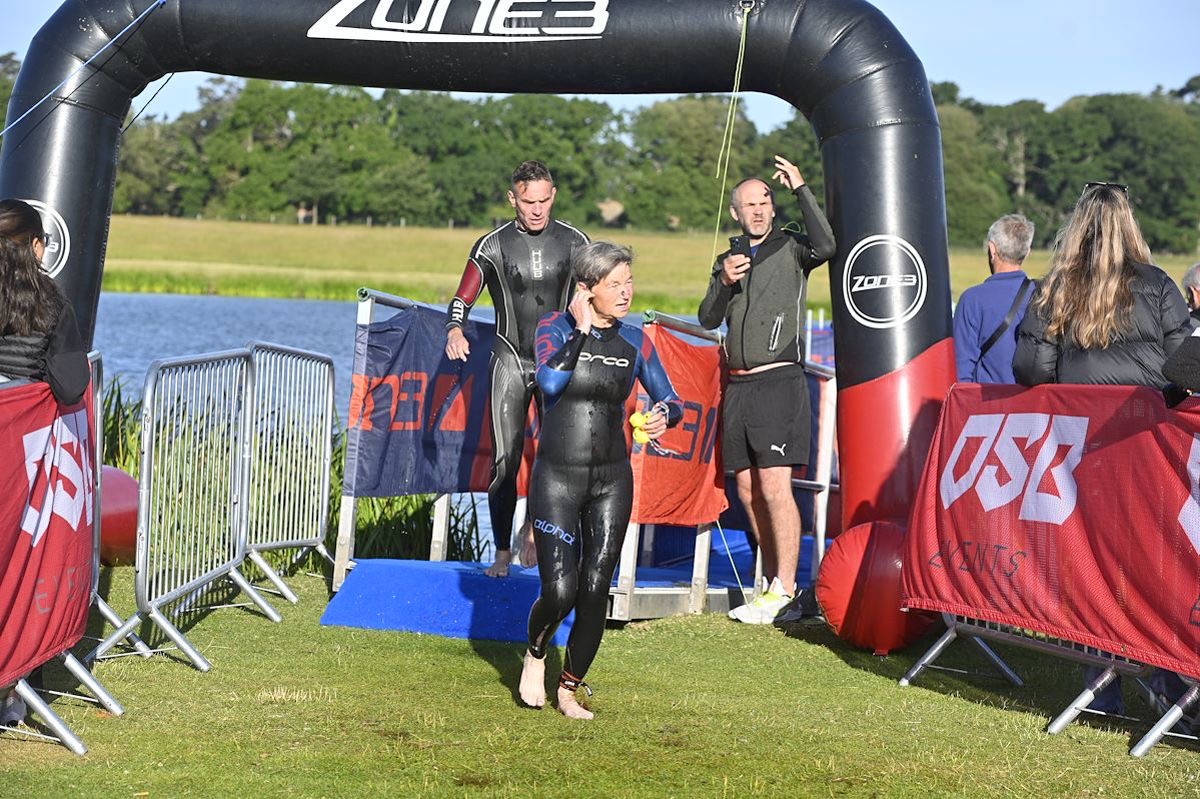 The transition zone was as you would expect, with excellent security, checking of helmets and wristbands and no queues. I got myself together for the bike, all very slowly and set off to the mount line. I had some bike demons to bury after a nasty fall at the start of Outlaw Nottingham last year and so was feeling somewhat tense at the start of this one. Today was a day to get my confidence back, to complete and not compete, which I had to keep telling myself. The first few miles were on the estate and the road was quite narrow and undulating, I did not enjoy all the bike traffic overtaking me. I rode like a granny and might as well have had a basket on the front of my bike for about 15 miles, after which I relaxed, got on the tri bars and rode properly. The second half of the course was much faster and it was like a time trial and I flew it and loved it. The course was one lap, undulating but without anything I would describe as a hill and I also made sure I enjoyed the beautiful countryside. The bike leg was done and I felt very happy to have completed it without incident. Off on the run now.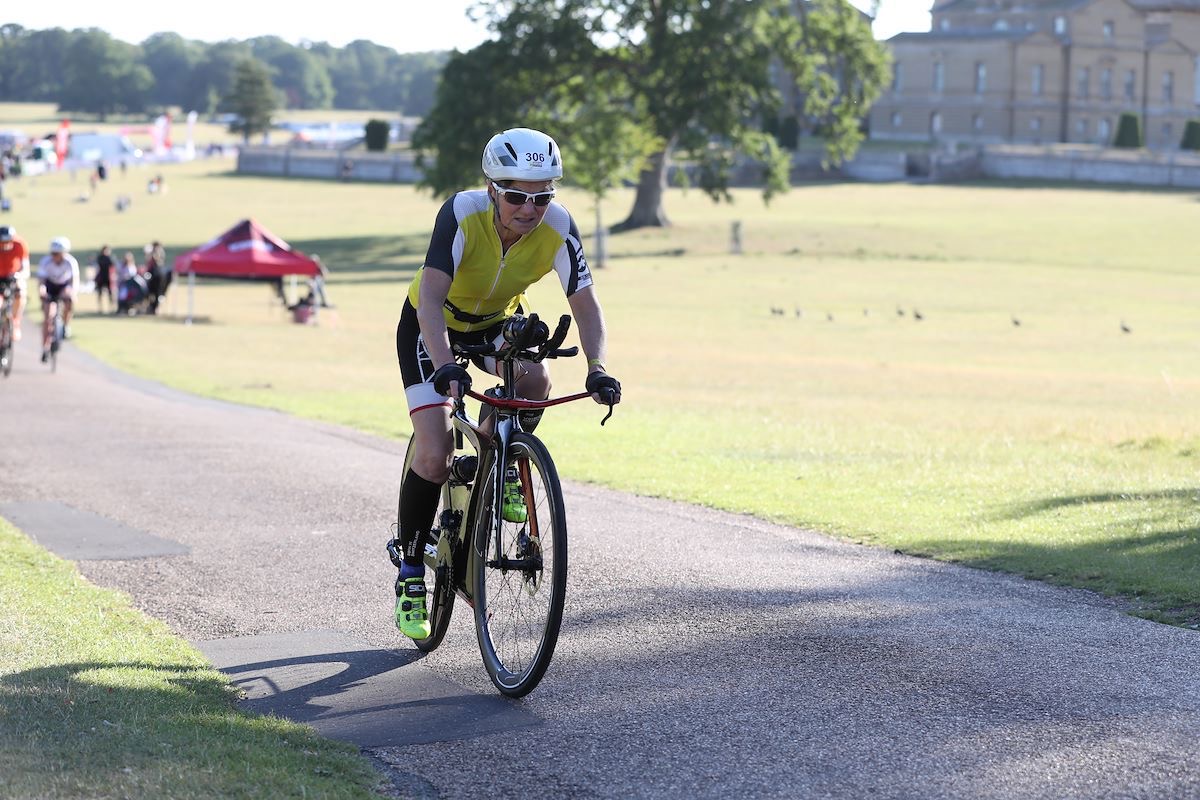 This was a three lap run course all on the Holkham Hall Estate. It was such a scenic course. Like the bike it was undulating, there wasn't much flat, all either up or down. The terrain was part road and part dirt track and gravel. I also ran at the sides of the road on the grass at times which was easier on the body. It was quite warm by now but there was also a gentle breeze which was welcome. As you came round towards the finish of a lap there was lots of support, which is always appreciated. I am a terrible runner, but was feeling great. I ran the last lap and last mile as my fastest which I have never done before. There was a lesson in pacing here and the slow start on the bike helped at the end.
It was a great day out, certainly the best middle distance I have done. Great organisation, easy logistics, lots of support and scenic courses. The icing on the cake was third in the old girls age group! I go on towards Ironman Copenhagen with renewed confidence and enthusiasm and having learnt some lessons about pacing.
HIGHLY RECOMMENDED folks. Contact me via the club if you want any more info.